I'm not against the trick or treating... I'm not fond of the devilish things that are celebrated. What I most like about October is the Autumn leaves (as previously stated) and the cooler weather (which we are yet to experience her in MI).
But, of course, the little
ghoulies
girlies are looking forward to dressing up and getting some yummy candies. They are excited even if the weather is 35 deg. F and it's raining!!
I'm not a big decorator when it comes to holidays (Christmas being the only exception in my house) because it just seems like you get the stuff up and then it's time to take it down and replace it all with more stuff for the next
Hallmark
holiday!
I do so enjoy going to other blogs and websites and seeing how they like to do up their homes for the festivities.... here are a few.
This acorn garland and tutorial are on Elsie's
A Beautiful Mess
blog... great eye candy for those crafty people.
The family makes yummy caramel apples over on
Bleubird Vintage
... see Miss James and her lovely fam.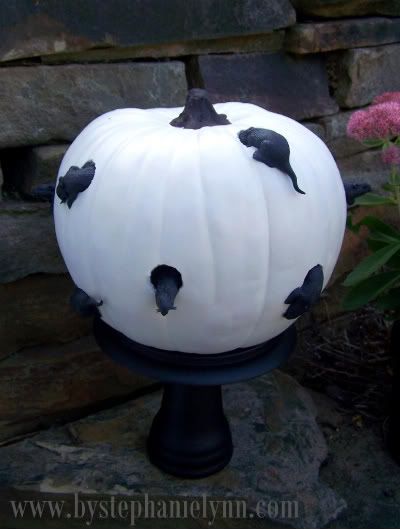 A whole bunch of Halloween DIY's @ StephanieLynn's blog...
Under the Table and Dreaming
Some beautiful ways to decorate for the season, if you don't like the holiday theme is found here on Chic on a Shoestring Decorating blog. She's got it going on for all seasons!!
And for those who are more into decorating themselves than their homes... here are 10 Easy Thrift Store Costume ideas from the Thriftcore Blog.
Of course being a thrifting lover myself the girls got their costumes from thrift stores in our area. A piece here, a piece there... until it all came together. I will be posting pics and explanations after the trick or treating is done and everyone has had their "fair share" of candy!
For those of you who think I'm not at all into the spirit of holidays... here are some pics of my take on a fall/harvest tablescape..... Lauryn and Liyah helped by gathering the acorns, pinecone, leaves and greenery. I think it's pretty and it's size appropriate for our table!